Edith Head
Fashion Designer
(

1897–1981

)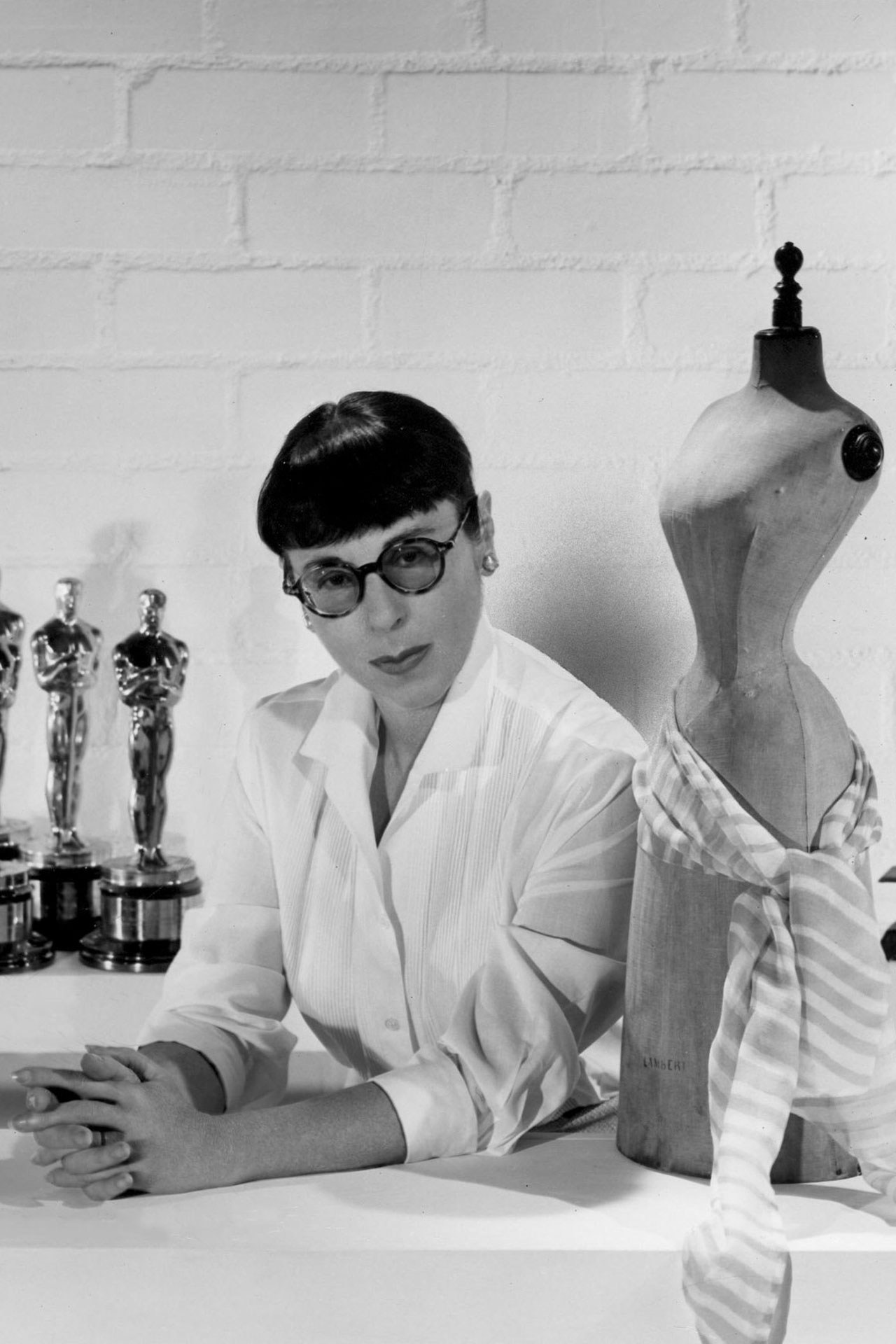 Edith Head was one of the most prolific costume designers in 20th century film, winning a record eight Academy Awards. She's known for films such as 'All About Eve,' 'Roman Holiday' and 'The Sting.'
Born on October 28, 1897, Edith Head became chief designer at Paramount Pictures in 1933 and later worked at Universal Studios. Hollywood's best-known designer, Head's costumes ranged from the elegantly simple to the elaborately flamboyant. She won a record eight Academy Awards for her work in films such as All About Eve (1950), Roman Holiday (1953), The Facts of Life (1960) and The Sting (1973).
Legendary American costume designer Edith Head was born Edith Claire Posener on October 28, 1897, in San Bernardino, California, the daughter of a mining engineer. Head relocated several times during her youth, growing up largely in Arizona, Nevada and Mexico. After graduating from Los Angeles High School, she attended the University of California, Berkeley, where she received her Bachelor of Arts degree in letters and sciences (earning honors in French), and then went on to enroll at Stanford University, where she earned a Master of Arts degree in romance languages in 1920.
After receiving her M.A., Edith Head served a brief stint as a schoolteacher. Then, in 1923, Head landed the position of sketch artist, then design assistant at Paramount Studios in Los Angeles. In 1938, Head was named chief designer at Paramount Pictures. She remained at Paramount for 44 years until 1967 when she moved to Universal Studios, where she became known for personally phoning producers and directors who were working on important films for the studio to offer her services.
Head received her first Academy Award nomination (Best Costume Design, Color; shared with designer Gile Steele) in 1949, for her design work in the 1948 film The Emperor Waltz, starring

Joan Fontaine

(Johanna Augusta Franziska) and

Bing Crosby

(Virgil Smith). Head won her first Oscar (Best Costume Design, Black-and-White; shared with designer Gile Steele) in 1950, for her costume work in 1949's The Heiress.
Head's costumes ranged from the elegantly simple to the elaborately flamboyant. The celebrated visionary continued to be an artistic force with other films from the decade, including All About Eve (1950), Roman Holiday (1953), Sabrina (1954), To Catch a Thief (1955), The Ten Commandments (1956) and Houseboat (1958). And the 1960s saw Head serving as designer for movies like The Nutty Professor (1963), The Carpetbaggers (1964), the

Natalie Wood

comedies Sex and the Single Girl (1964) and Penelope (1966), Chuka (1967) and Barefoot in the Park (1967), among many other projects.
Record-Setting Oscar Wins
By 1970, Head had received her 31st Oscar nomination, specifically for her work on

Bob Fosse

's 1969 musical Sweet Charity, starring

Shirley MacLaine

(Charity) and

Ricardo Montalban

(Vittorio). Head had also reunited with iconic director

Alfred Hitchcock

(the two had worked together on previous Hitchcock films like Rear Window, Vertigo and The Birds) for Topaz (1969), and with

George Roy Hill

for Butch Cassidy and the Sundance Kid (1969), starring

Paul Newman

and

Robert Redford

. She later called the latter film her favorite movie, stating, "In terms of sheer entertainment, not in terms of my designing ... It had everything—humor, action, romance and the two handsomest men in Hollywood."
In 1978, Head was honored with her last Oscar nomination (Best Costume Design; shared with Burton Miller), for her design work in Airport '77. She had won her eighth and last Oscar four years earlier, in 1974—setting the record for most Oscars won by a woman (a record she still holds today)—for her work in Hill's The Sting (1973).
By the end of her lifetime, Edith Head had secured her legacy as Hollywood's best-known costume designer. During her career, Head worked on more than 1,100 films, received 35 Oscar nominations and took home eight statues. She was also known for having designed uniforms for female members of the U.S. Coast Guard towards the end of the 1970s. She also authored the books The Dress Doctor (1959), How to Dress for Success (1967) and the posthumous, autobiographical Edith Head's Hollywood (1983).
The iconic designer died on October 24, 1981, at the age of 83, in Hollywood, California.