The most iconic DVF dresses and the stars who wore them...

Few designers are more famous for their dresses than Diane Von Furstenberg. Since arriving in New York in the 1970s with a suitcase full of jersey dresses, DVF has made fashion history and become notorious for timelessly flattering dresses.

When her figure-hugging, jersey wrap dress became a cult item, both for the Studio 54 crowd and the Park Avenue set, she was cemented in the realm of icons. Over the next 30 years, she saw her business soar, decline and, in the last decade, resurge in popularity, to become the multimillion-dollar fashion empire it is today
.
From the Met Gala to dressing British Royalty, we chart the history of Diane Von Furstenberg through her iconic dresses – and the equally as famous fans.

Diane von Furstenberg, 1976

In 1970 Diane von Furstenberg arrived in New York with suitcase full of jersey dresses that she had made at her friend Angelo Ferretti's factory in Italy. Encouraged by Vogue editor Diana Vreeland, Diane began to make her everlasting imprint on the fashion world and designed the now-incoci wrap dress in 1974. The instant sell-out was an international success, and put DVF's name on the fashion map. A dress which is suitable for every kind of body type, that immediately makes us feel classy and ready for every occasion, it is a dress which has been worn by thousands of women, hundreds of celebrities, that was painted in every kind of colour and experimented with in all types of patterns.

Read more at http://www.marieclaire.co.uk/blogs/548070/the-story-of-diane-von-furstenberg-s-most-iconic-dresses.html#9uQkleeLCIsrS3zC.99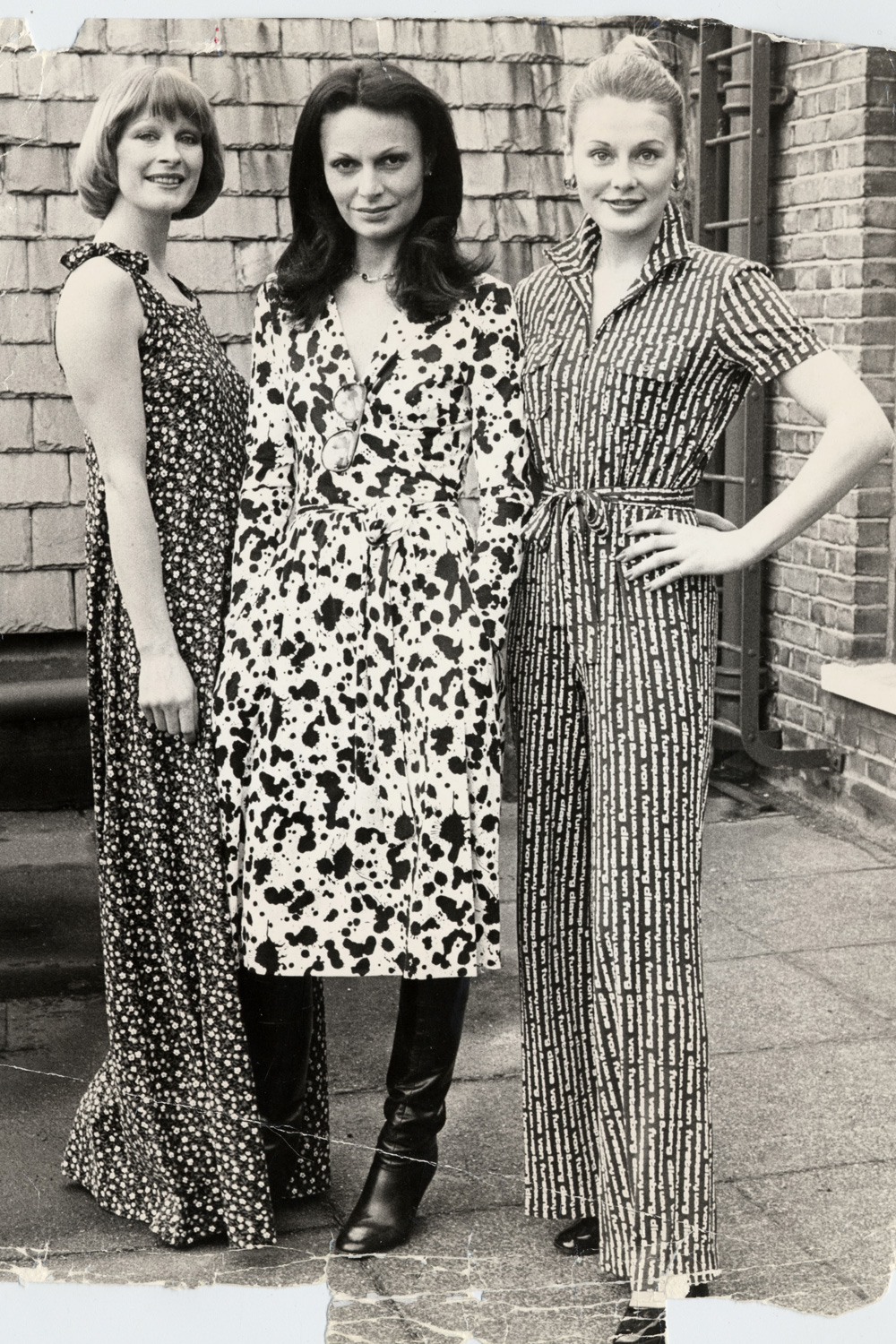 Cybill Shepherd, 1976
Cybill Shepherd wore the Diane von Furstenberg wrap dress in Scorsese's Taxi Driver in 1975. With a low-neck and a red and with geometric pattern and tie waist, it optimised everything sexy and effortless about DVF's designs and soon became a cult 70s happening.
Read more at http://www.marieclaire.co.uk/blogs/548070/the-story-of-diane-von-furstenberg-s-most-iconic-dresses.html#9uQkleeLCIsrS3zC.99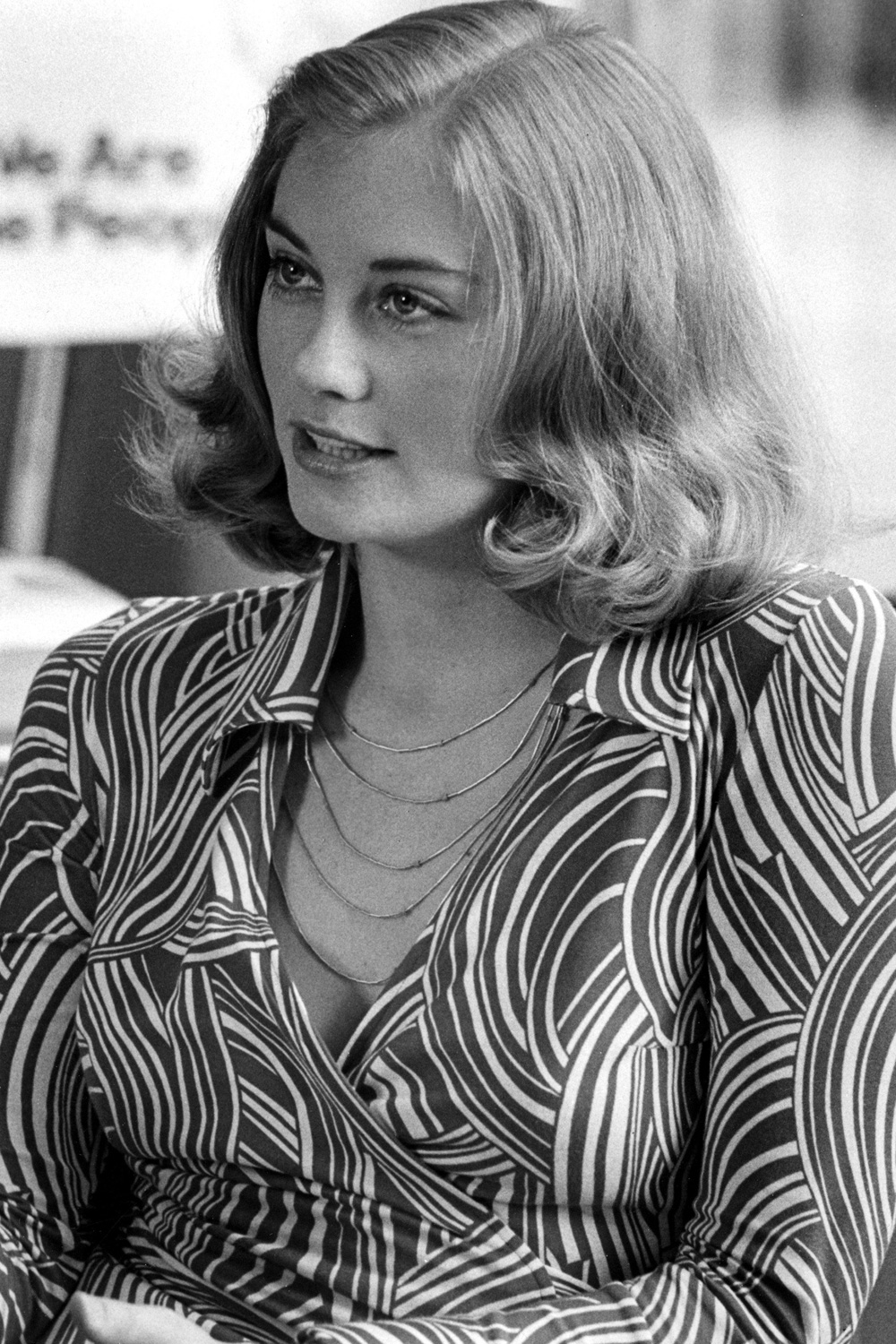 Kate Hudson, 2006
Proving the timelessly elegant qualities of a DVF dress, Kate Hudson wowed in this full-length beaded number at the 'You, Me and Dupree' film premiere in 2006.
Read more at http://www.marieclaire.co.uk/blogs/548070/the-story-of-diane-von-furstenberg-s-most-iconic-dresses.html#9uQkleeLCIsrS3zC.99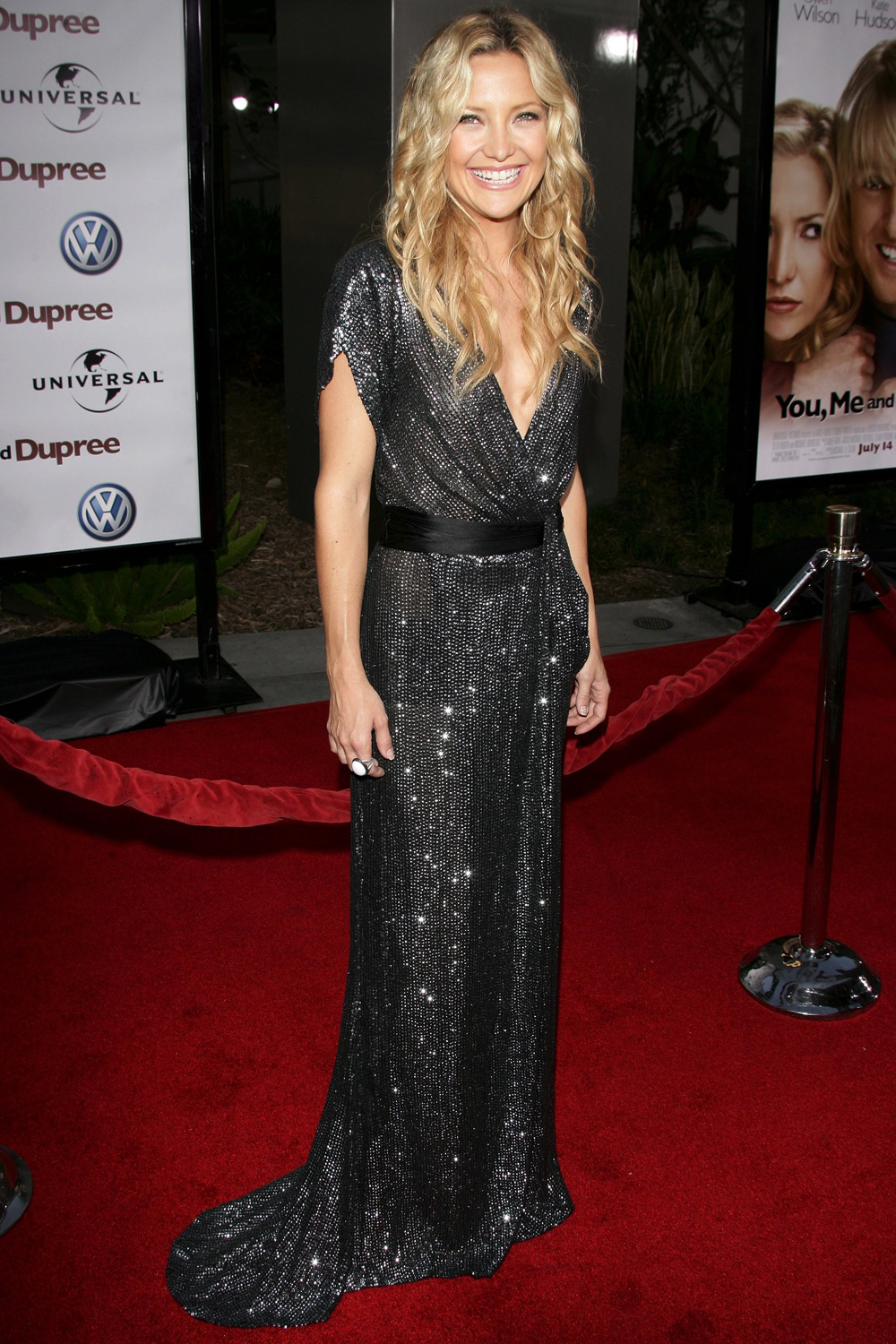 Diane von Furstenberg, 2006
Unlike most designers, Diane embraces colour and pattern with abundance in her personal style just as much as she does in her catwalk collections. In 2006, she took the MET Gala's Anglomania theme quite literally with a bespoke Union Jack off-the-shoulder dress which still managed to echo her signature 70s vibe.
Read more at http://www.marieclaire.co.uk/blogs/548070/the-story-of-diane-von-furstenberg-s-most-iconic-dresses.html#9uQkleeLCIsrS3zC.99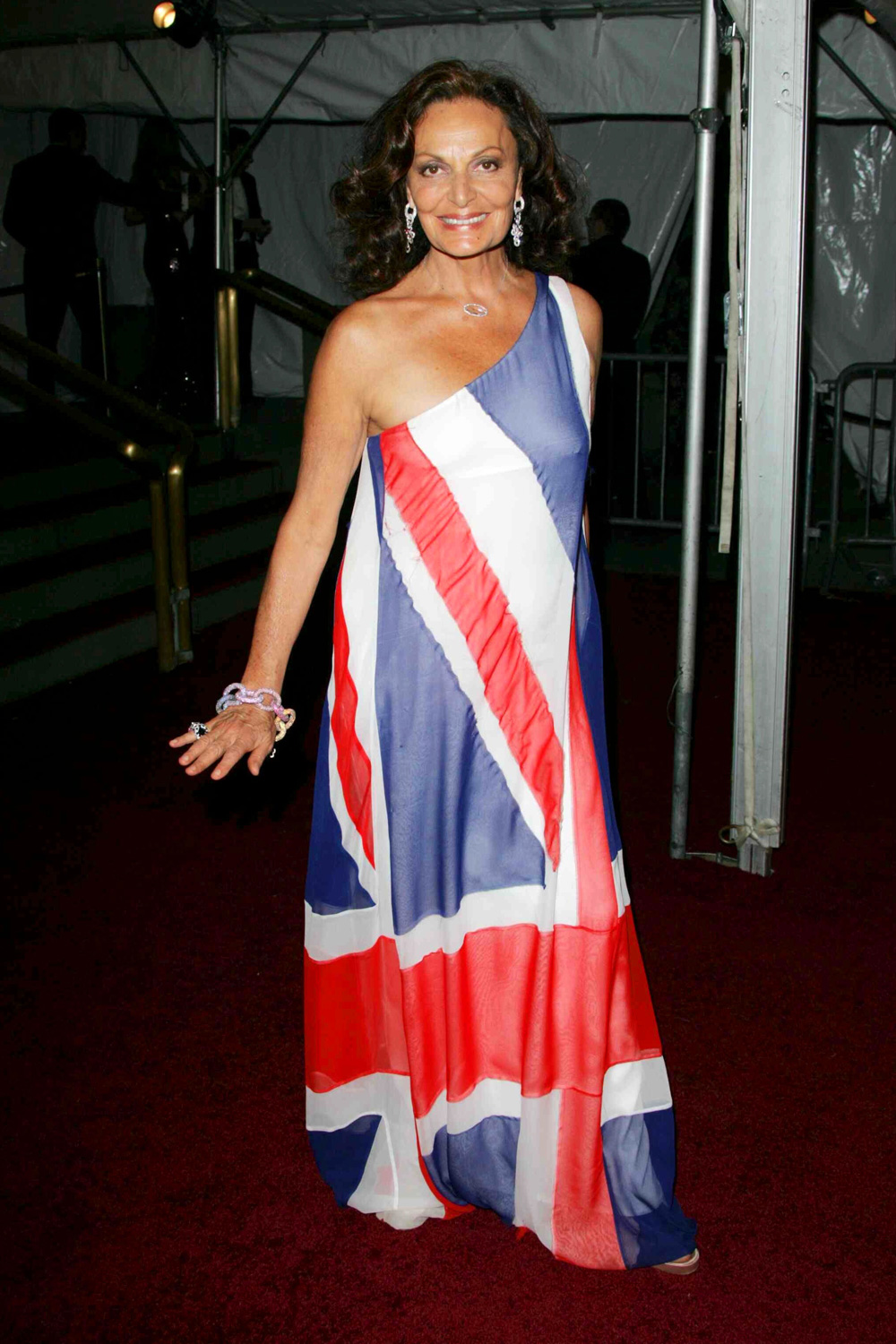 Mary-Kate and Ashley Olsen, 2008
Proving that her designs are just as relevant with contemporary style icons as they were on the likes of Jerry Hall in the 70s, DVF dressed and designed two bespoke dresses for the MET Gala's Superhero theme – each of which were worn by the Olsen sisters.
Read more at http://www.marieclaire.co.uk/blogs/548070/the-story-of-diane-von-furstenberg-s-most-iconic-dresses.html#9uQkleeLCIsrS3zC.99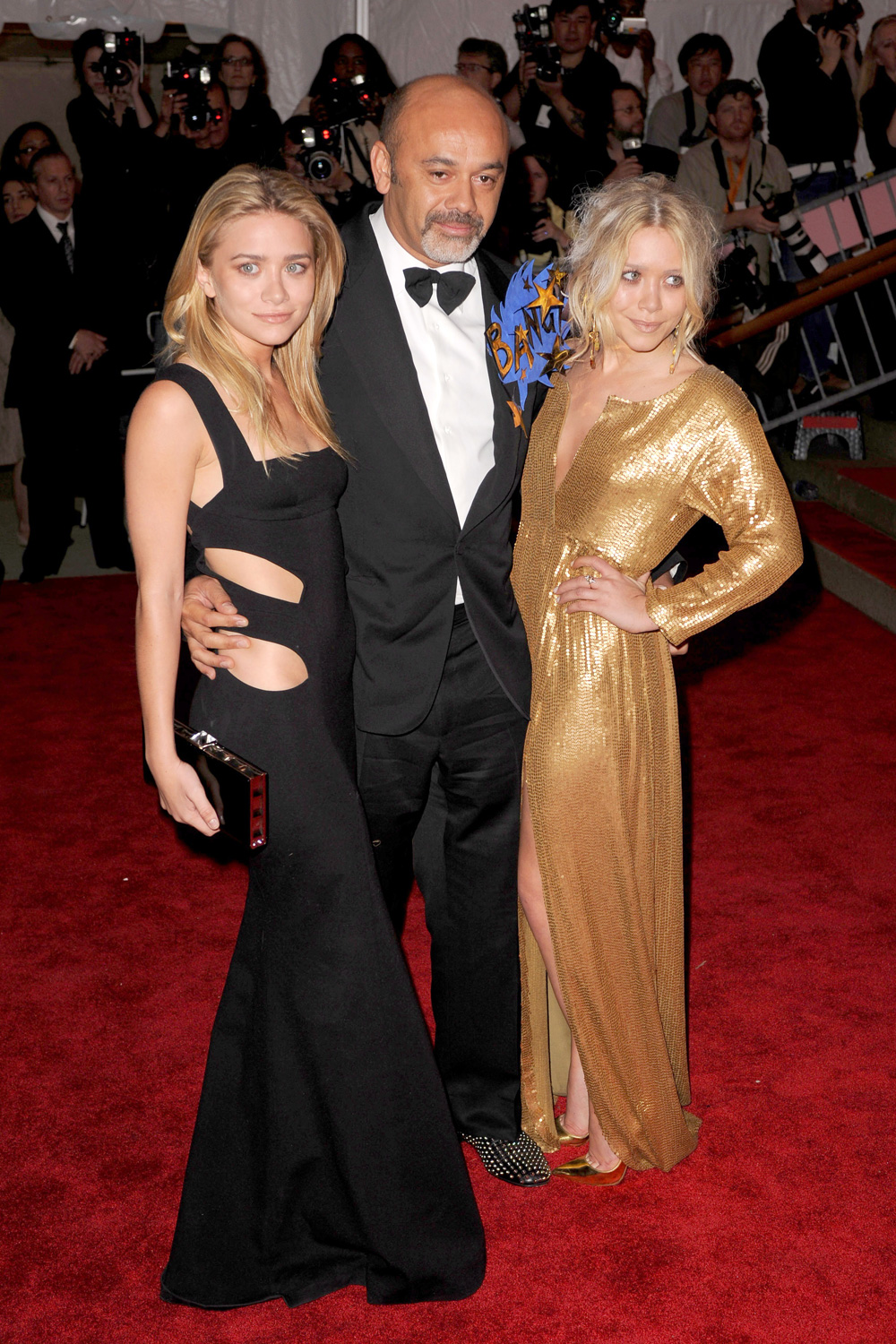 Sienna Miller, 2009
When Sienna Miller appeared on New York's 'The Early Show' in 2009 in this biased cut, on-trend midi length floral dress, she spawned a thousand high street imitations and made this the dress everyone wanted to own.
Read more at http://www.marieclaire.co.uk/blogs/548070/the-story-of-diane-von-furstenberg-s-most-iconic-dresses.html#9uQkleeLCIsrS3zC.99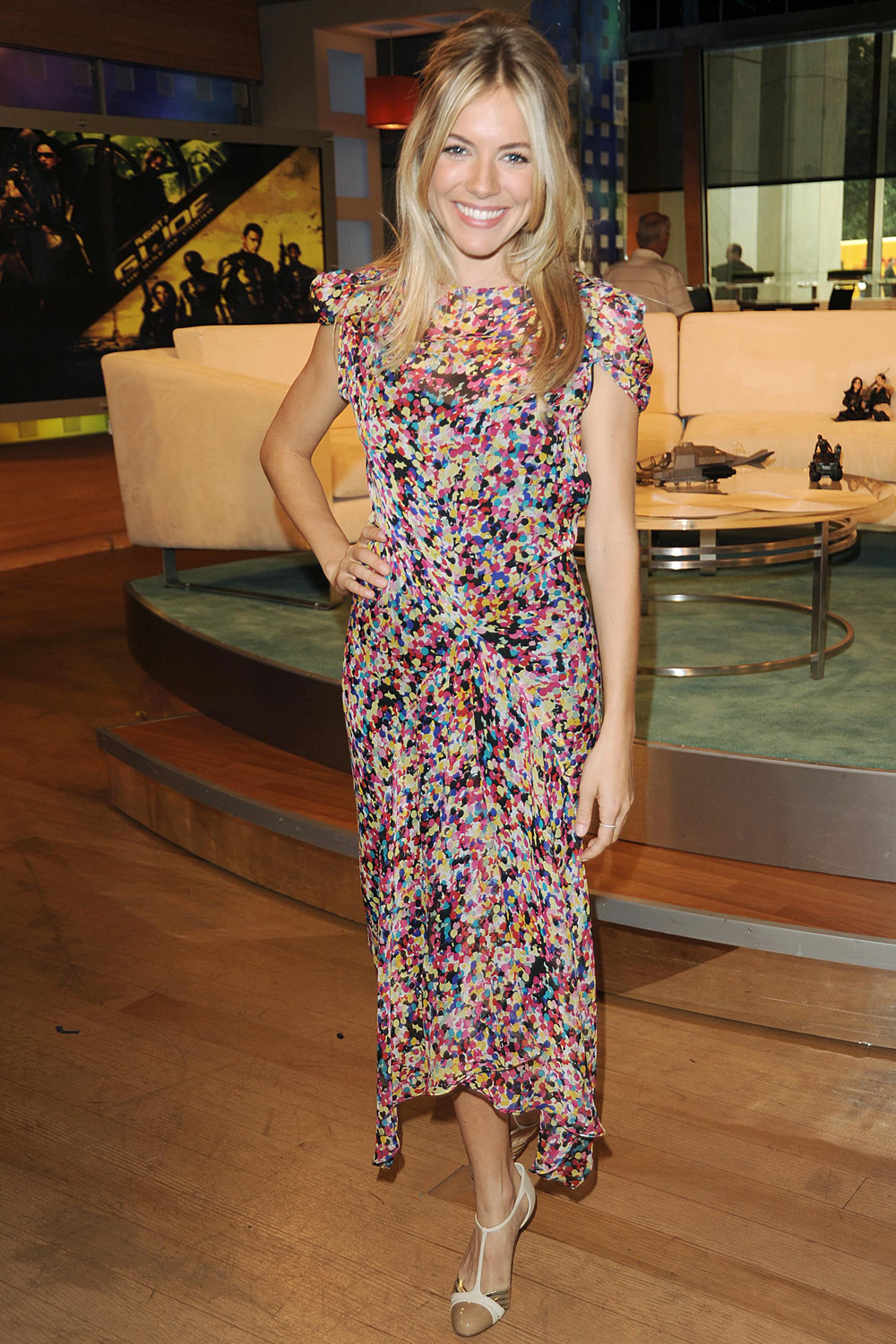 Michelle Obama, 2010
With their timeless qualities and flattering cuts, it's no surprise that DVF's dresses have made their way into White House. Thanks to the demure length and flattering sleeves, her designs have become a firm favourite of Michelle Obama, who chose one of the designs for the Obamas very first official Christmas card.
Read more at http://www.marieclaire.co.uk/blogs/548070/the-story-of-diane-von-furstenberg-s-most-iconic-dresses.html#9uQkleeLCIsrS3zC.99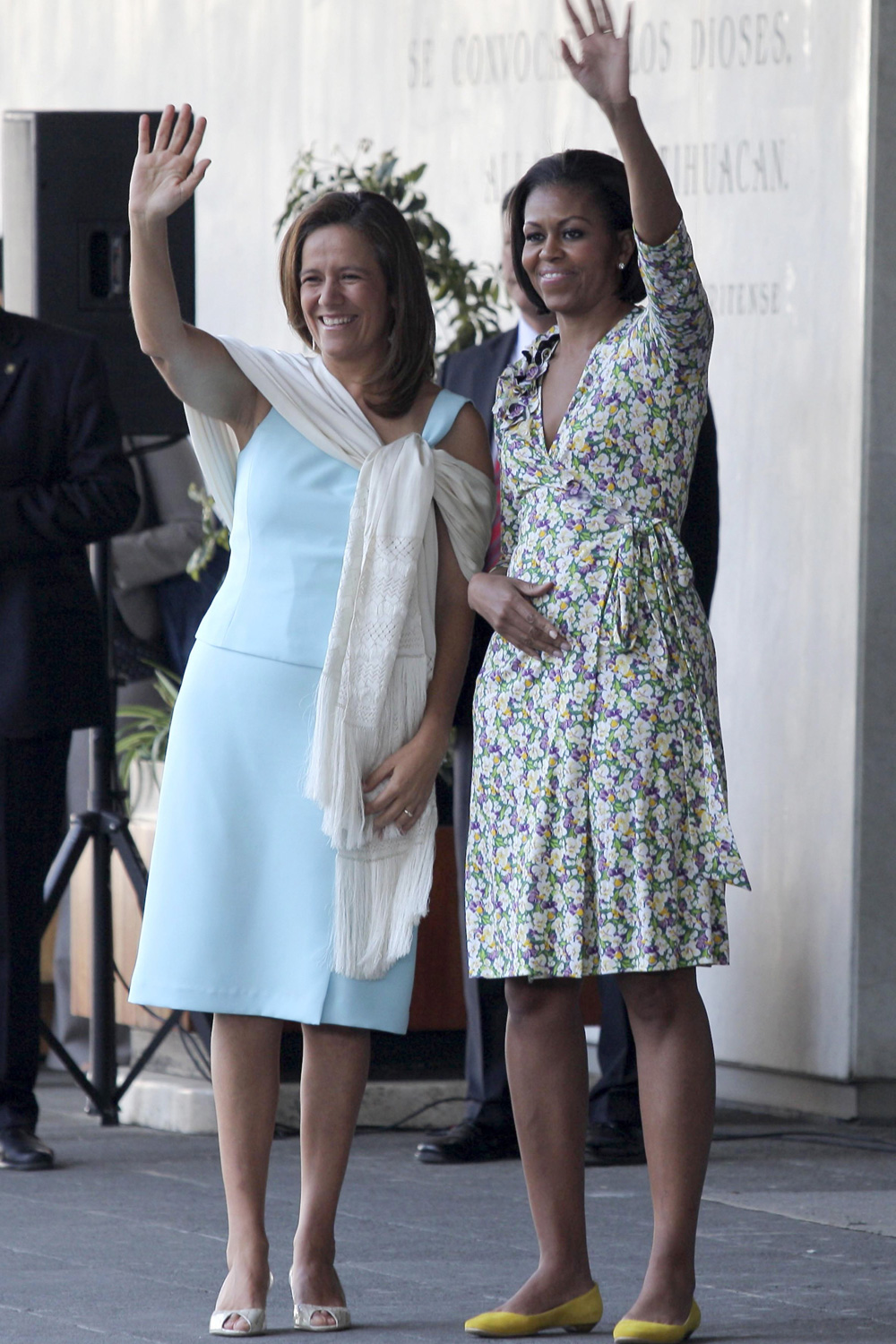 Susan Sarandon, 2011
Susan Sarandon has been a devoted Diane von Furstenberg dresser ever since the 70s, and still continues to wear her wrap and printed dresses to movie premières. Embodying the actress's effortless, subtly sexy style, it's no surprise they are long-term collaborators.
Read more at http://www.marieclaire.co.uk/blogs/548070/the-story-of-diane-von-furstenberg-s-most-iconic-dresses.html#9uQkleeLCIsrS3zC.99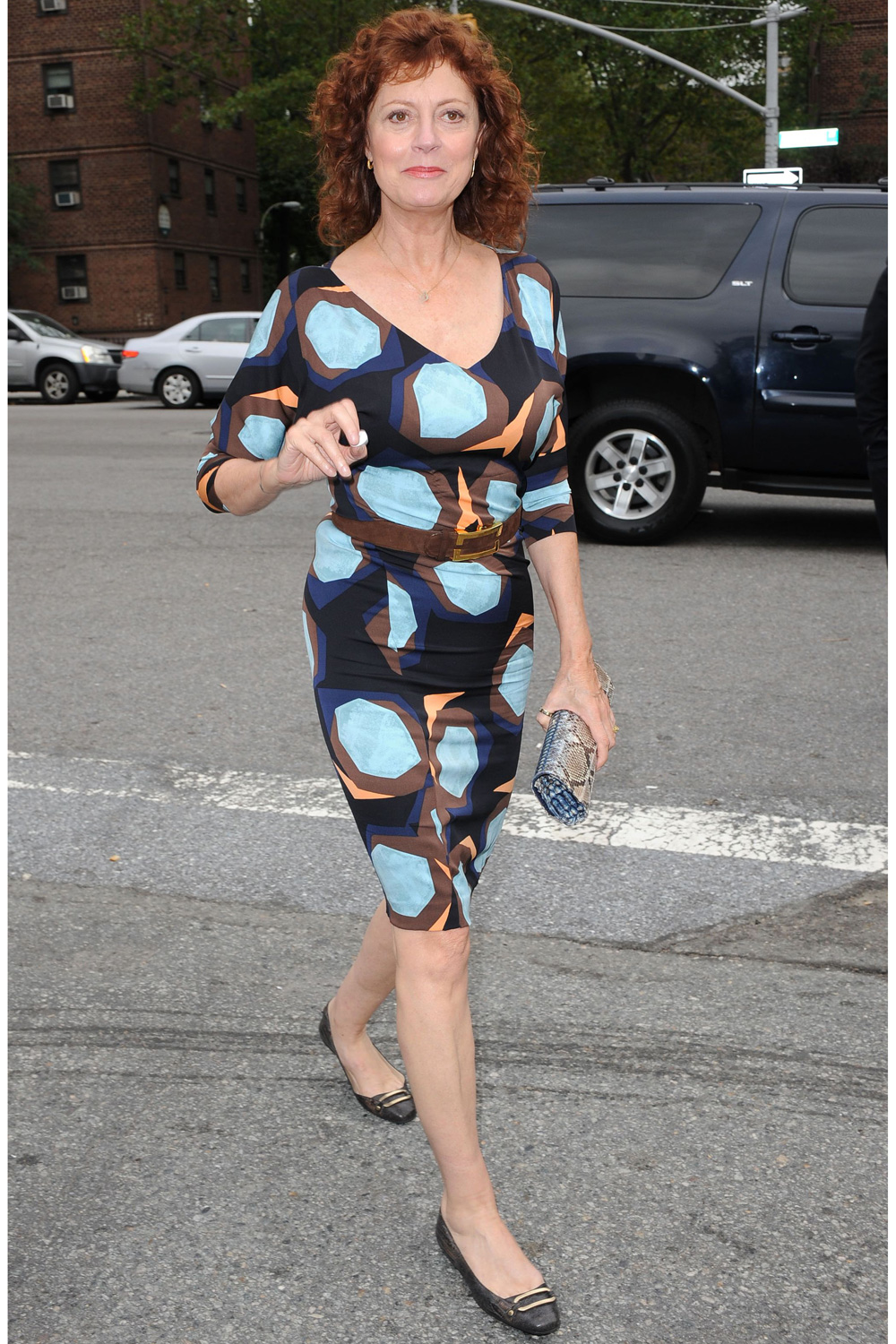 Olivia Palermo, 2012
When DVF threw open her design studio doors to a camera crew, she launched the career of her PR girl Olivia Palermo. The street style star now regularly sits front row at the designer's shows and is a true advocate of her cute, feminine prints and dresses.
Read more at http://www.marieclaire.co.uk/blogs/548070/the-story-of-diane-von-furstenberg-s-most-iconic-dresses.html#9uQkleeLCIsrS3zC.99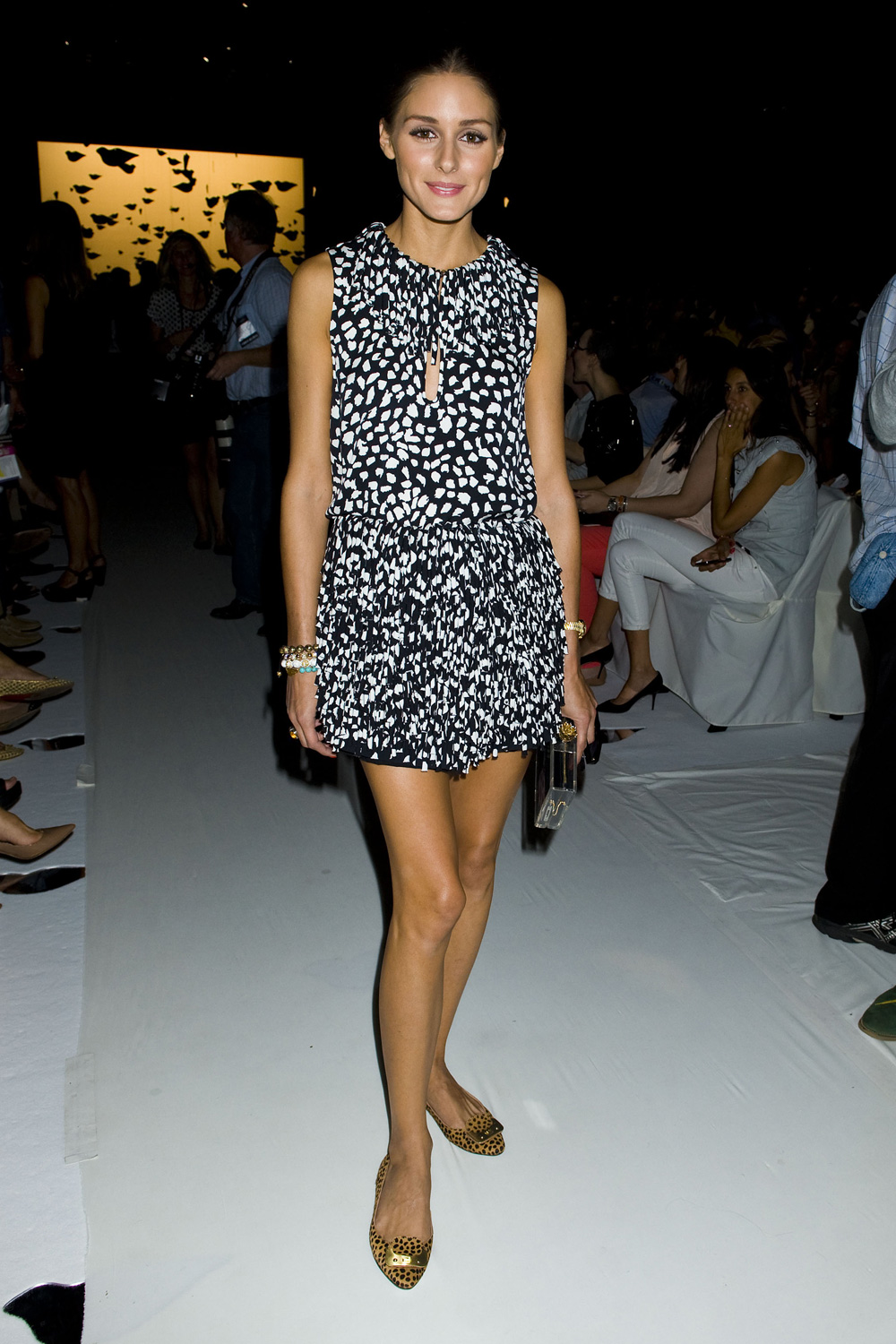 Gwyneth Paltrow, 2012
Now here's a fashion power couple: Gwyneth Paltrow and Diane von Furstenberg. The red carpet favourite has been a long-term supporter of DVF's designs, so much so that the pair collaborated on a spaical range for Paltrow's Goop website.
Read more at http://www.marieclaire.co.uk/blogs/548070/the-story-of-diane-von-furstenberg-s-most-iconic-dresses.html#9uQkleeLCIsrS3zC.99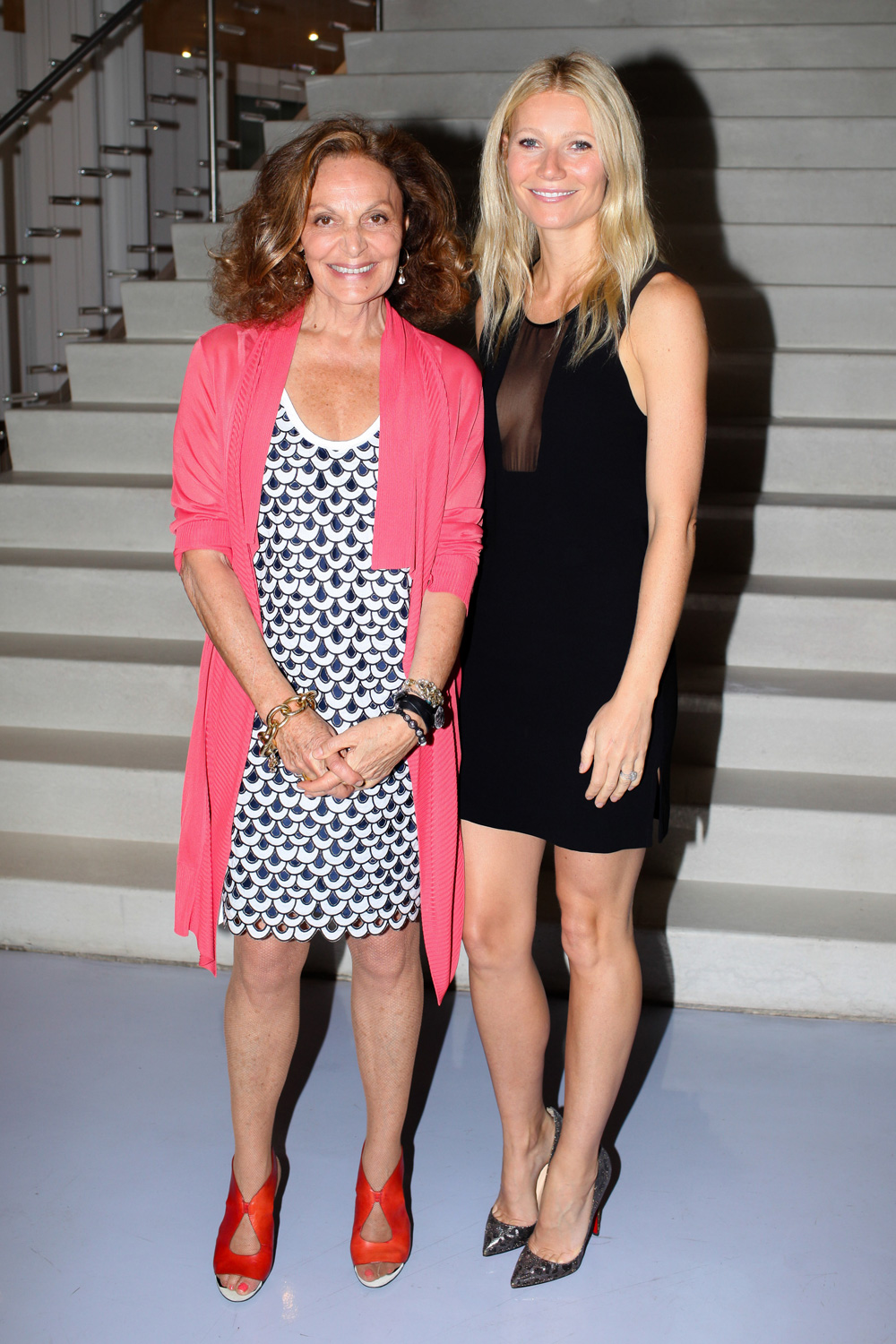 Amy Adams, 2013
For a film all about 70s glamour, there was only one designer the lead actress was ever going to wear. In fact, Amy Adams wore three DVF wrap dresses in American Hustle. The first being the green and white dress that Diane herself was photographed in for the cover of Newsweek in 1976
Read more at http://www.marieclaire.co.uk/blogs/548070/the-story-of-diane-von-furstenberg-s-most-iconic-dresses.html#9uQkleeLCIsrS3zC.99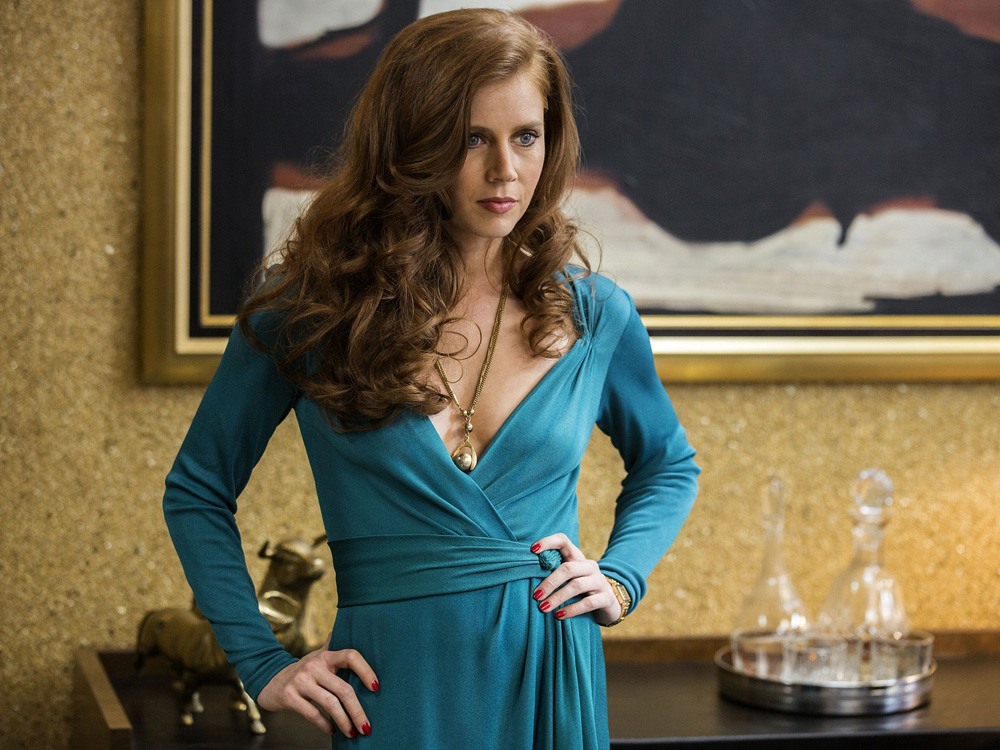 Karen Elson, 2013
The floor-length, billowing and covered-up yet sexy 70s inspired dresses that made DVF famous in the 70s are still relevant today, and make regular appearances on her New York catwalks…
Read more at http://www.marieclaire.co.uk/blogs/548070/the-story-of-diane-von-furstenberg-s-most-iconic-dresses.html#9uQkleeLCIsrS3zC.99
Duchess of Cambridge, 2014
A-list fans don't come much better than the Duchess of Cambridge. Renowned the world over for her style, Duchess Kate has the ability to instantly sell out a dress just with one outing. Not only that but Diane von Furstenberg's demure and feminine cuts and colours are perfect for Royal duties, just like this one in the Blue Mountains in Australia.
Read more at http://www.marieclaire.co.uk/blogs/548070/the-story-of-diane-von-furstenberg-s-most-iconic-dresses.html#9uQkleeLCIsrS3zC.99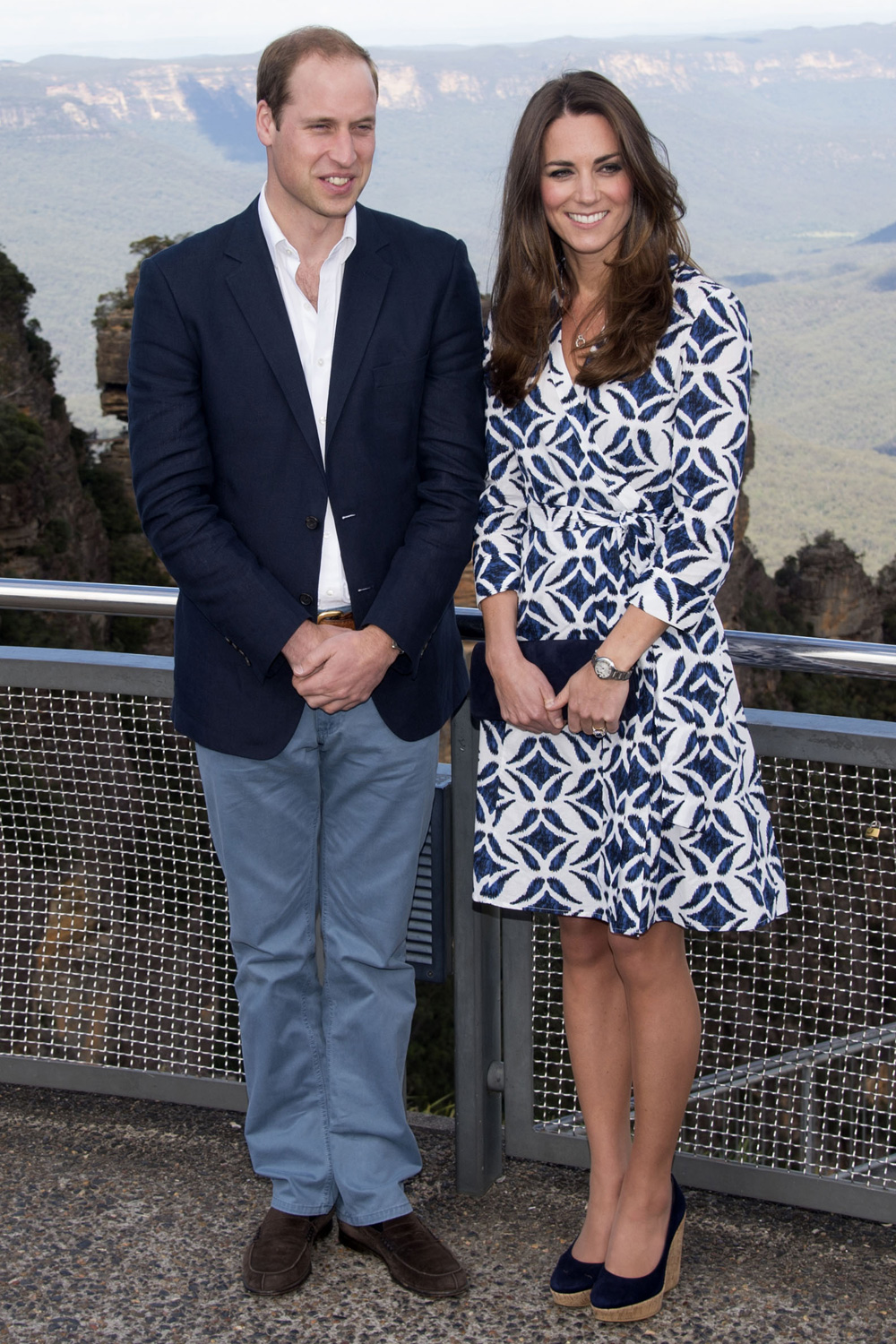 Sarah Jessica Parker, 2014
When asked about her vintage wrap dress in Sex and The City, Sarah Jessica Parker descried it as hiding 'every secret you want to hide. I just felt flawless.' Both the Carrie Bradshaw character and DVF became symbolic of female sexual liberation, female empowerment in the work place and, of course, New York.
Read more at http://www.marieclaire.co.uk/blogs/548070/the-story-of-diane-von-furstenberg-s-most-iconic-dresses.html#9uQkleeLCIsrS3zC.99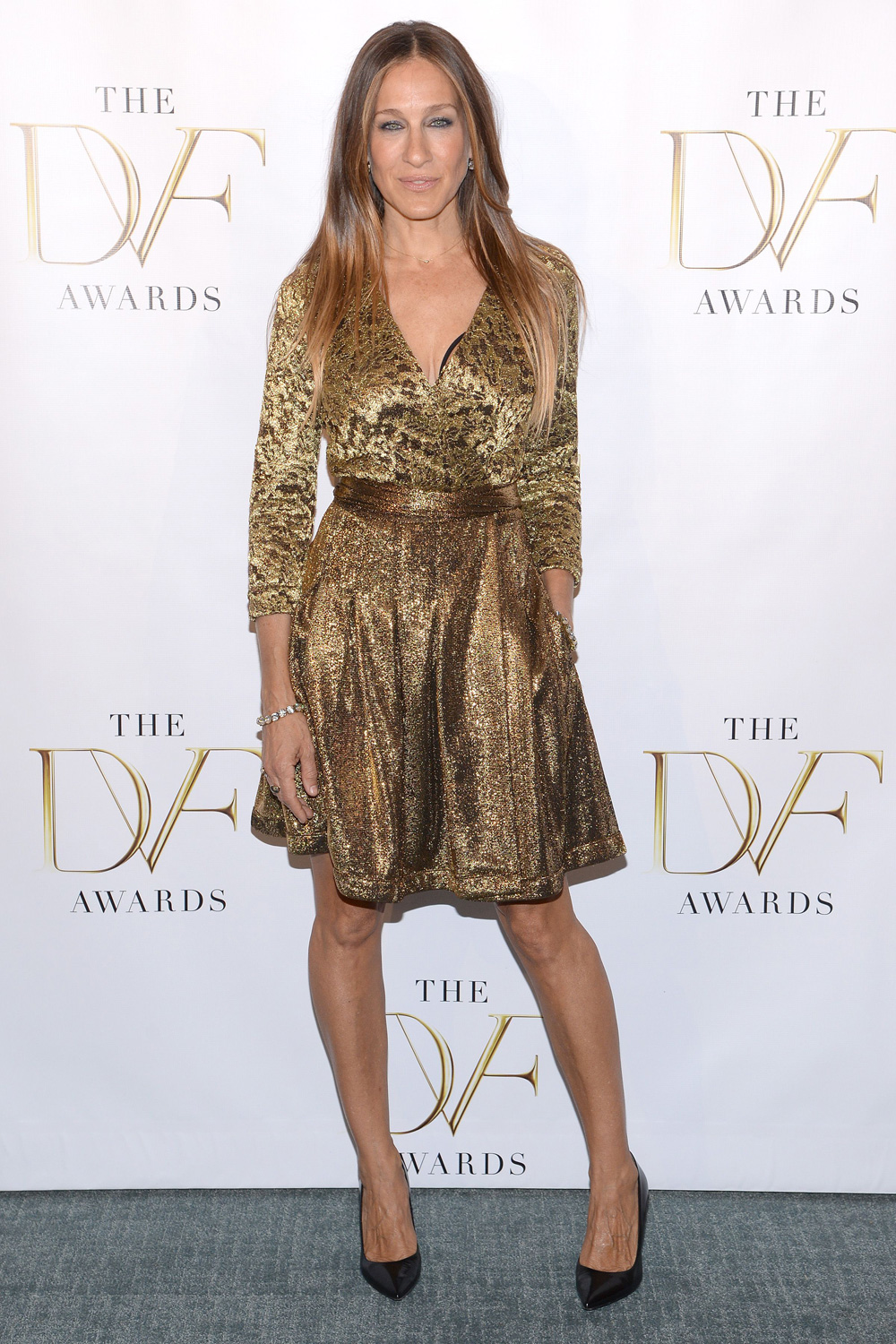 Coco Rocha, 2014
Diane von Furstenberg doesn't just do jersey dresses. She designs a mean gown too, just as this signature animal print floor-length number proves.
Read more at http://www.marieclaire.co.uk/blogs/548070/the-story-of-diane-von-furstenberg-s-most-iconic-dresses.html#9uQkleeLCIsrS3zC.99
Jessica Hart, 2014
With the 70s returning to the fashion forefront this year, DVF's wrap dresses and trademark flared-silhouette are in demands more than ever before. And with it has brought a new wave of fans, including former Victoria's Secret model Jessica Hart.
Kendall Jenner, 2014
From Jerry hall in the 70s to Kendall Jenner in the 10s, Diane von Furstenberg has the power and influence to bring in the big name catwalks models, proving her relevance more than ever before.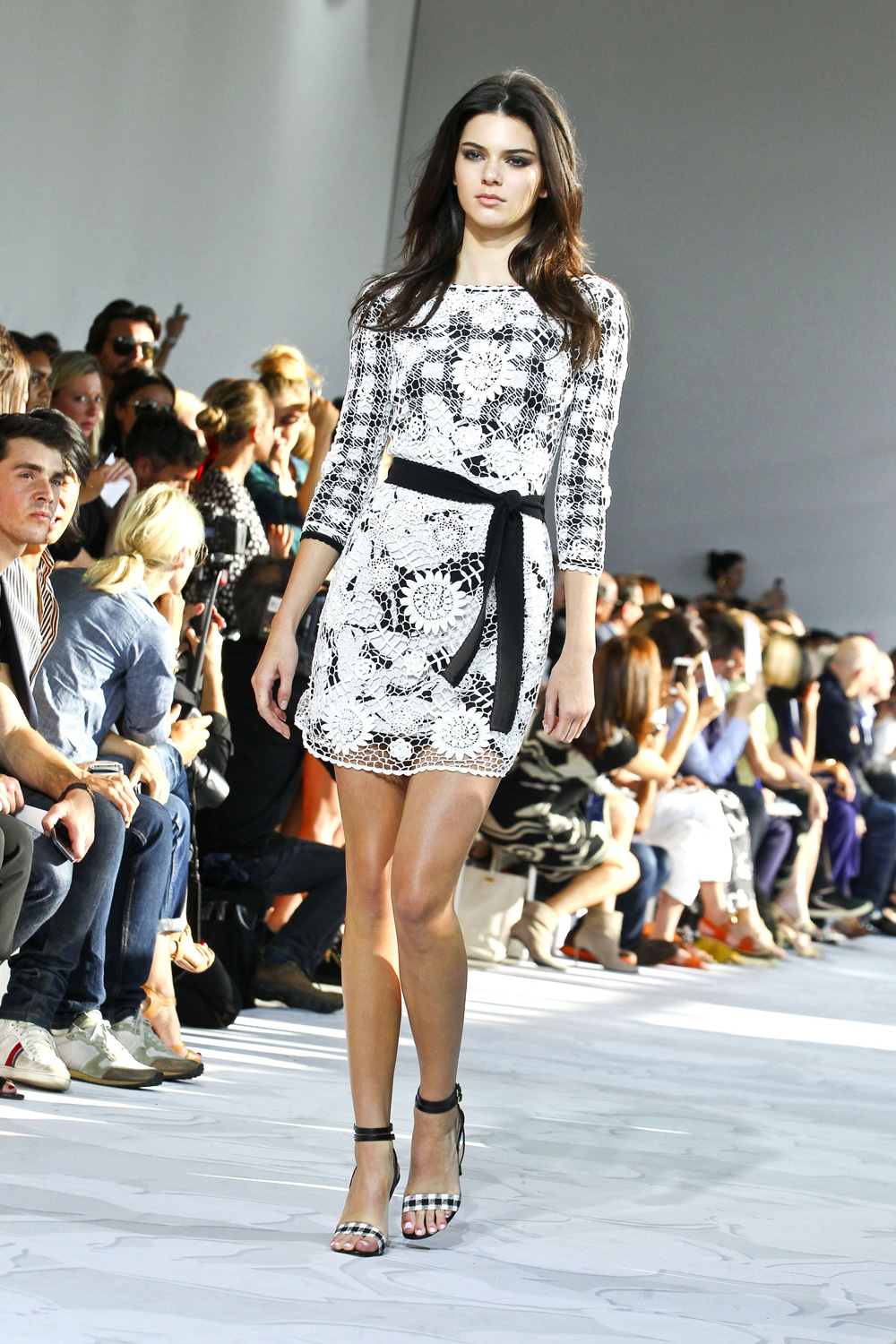 Diane von Furstenberg, 2014
The fashion icon is having a busy year. While releasing a new memoir and celebrating 40 years of her signature wrap dress, she is also working on a new reality TV show - House Of DVF - and still manages to look amazing.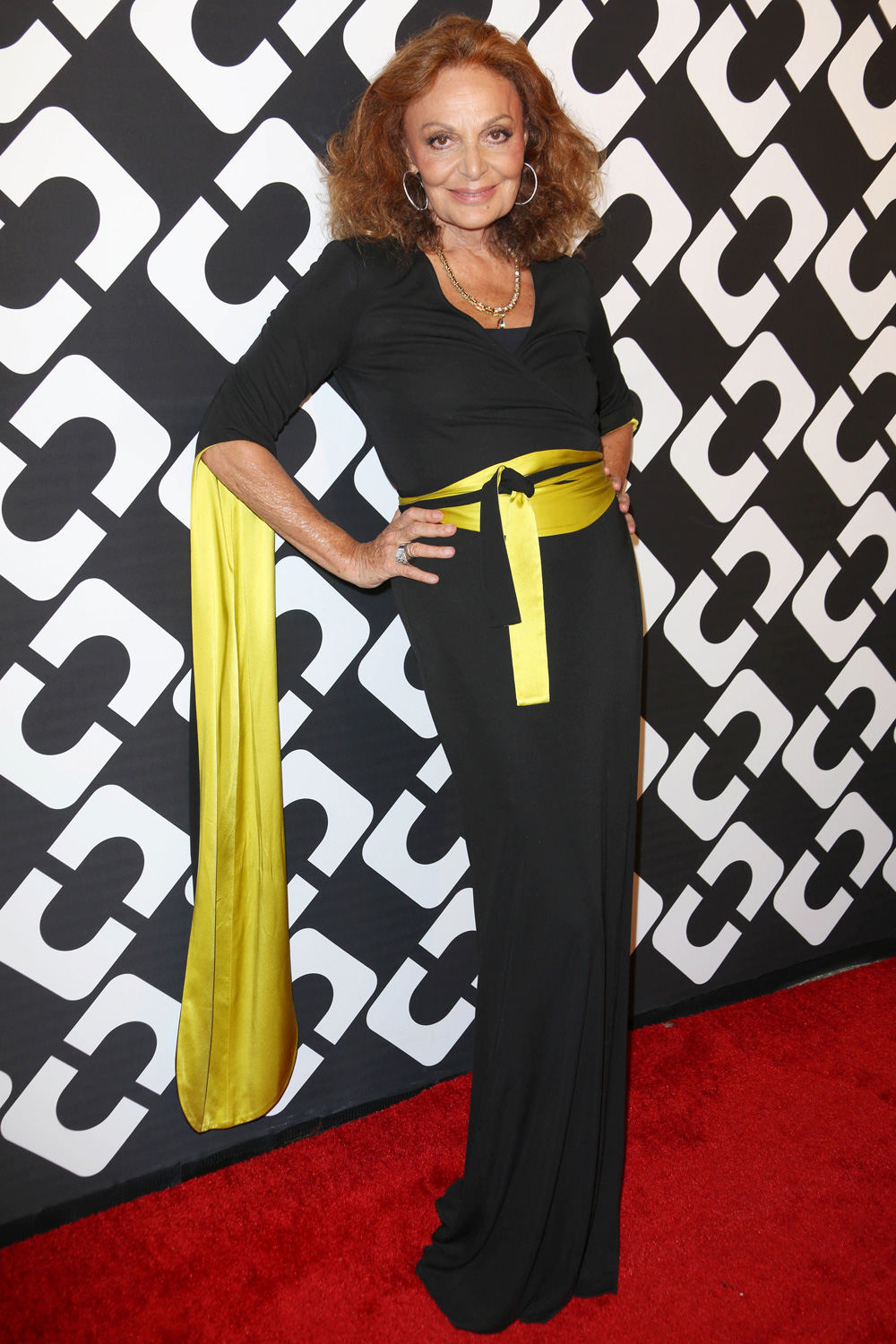 That's a wrap...