- Have you ask yourself question what happens with winner of "Project Runway"? I know i did.. Being such a big fan of this show I was carious if the actually can make it in the industry or no. And seems like they did.
- (from author)
Jay McCarroll
As the winner of the show's first season, McCarroll was awarded $100,000, a mentorship from Banana Republic and a spot in the prestigious 2005 New York Fashion Week event, but the gregarious designer turned down the money and the mentorship, citing contractual issues. After leaving New York, McCarroll taught at Philadelphia University and had a fashion line on QVC. In April 2008, he launched his blog and designer fashion boutique,
The Colony
by Jay McCarroll. In 2010, McCarroll won the seventh season of
Celebrity Fit Club
on VH1, having lost 40 pounds on the reality show.
Chloe Dao
Since beating out Daniel Vosovic and Santino Rice on the second season of the reality show -- then airing on Bravo -- Dao has continued to expand her Houston-area clothing boutique Lot (later renamed Chloe Dao boutique). Recently, Dao acted as judge for season one of Project Runway Vietnam.
Jeffrey Sebelia
Sebelia's Cosa Nostra was a favorite among such stars as Gwen Stefani, Elton John, Madonna and Tommy Lee even before his time on Project Runway. After his season three win, and during a tumultuous financial time for Cosa Nostra, Sebelia took the position of head designer with a new fashion house named Fluxus. In 2011, he debuted a kid's clothing line called La Minitura, a fun mix of British posh and pop-punk that can be found at Kitson and Barney's New York.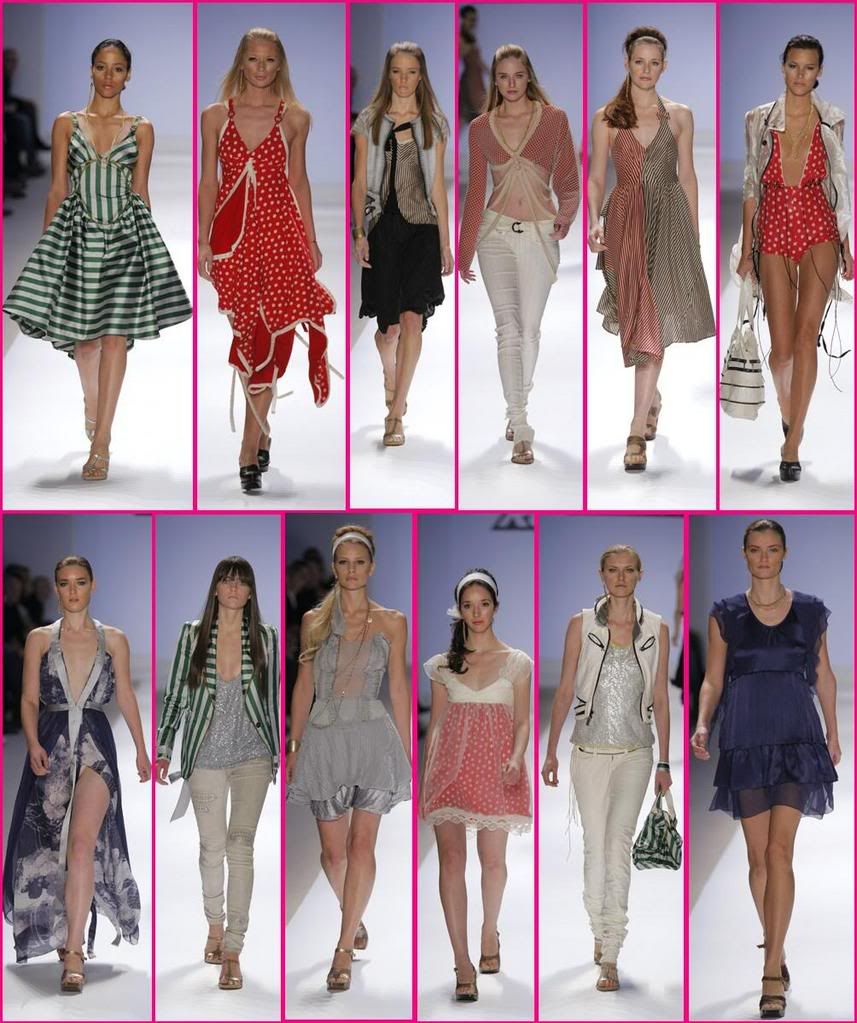 Christian Siriano
Probably the most well-known Runway alum, Siriano was just 20 years old when he competed on the television program, and his ultra-feminine designs and trademark catchphrase "fierce" made him a fan favorite. Siriano's eponymous fashion line, Christian Siriano, debuted at New York Fashion Week in September 2008. His collection is available at Saks Fifth Avenue and Neiman Marcus, and he has a popular line of footwear for Payless Shoesource. He also has designed for multiple celebrities, including Taylor Swift and Kaley Cuoco.
Leanne Marshall
The Portland, Ore., native stills maintains her familiarity with the fashion world. Most recently, Marshall can be found designing wedding gowns in her Brooklyn, N.Y., studio. She even had a spring/summer wedding dress collection that was shown at 2013's New York Fashion Week.
Irina Shabayeva
A graduate of Parsons School of Design, Shabayeva is originally from the Republic of Georgia. After her Project Runway win, She designed Selena Gomez's dress for the 2011 People's Choice Awards and the ombre gown worn by Grammy winner Carrie Underwood on the cover of her album Blown Away. Shabayeva launched a limited-edition collection exclusively for Macy's INC in February 2011.
Seth Aaron Henderson
Henderson's most recent show was at Portland Fashion Week in October 2011 and featured sustainable fabrics made from recycled plastic bottle, reinforcing his philosophies on "clothing with a conscience."
Gretchen Jones
Jones' victory over Mondo Guerra is considered the most controversial win the show has ever seen, with judges Michael Kors and Nina Garcia clearly in favor of Jones' collection and Heidi Klum and guest judge Jessica Simpson favoring Guerra. Jones now lives in Brooklyn, where she runs her ready-to-wear women's line, Gretchen Jones NYC, and consistently shows at New York Fashion Week. For the spring-summer 2013 season, she was chosen as one of GenArt's Fresh Faces.
Anya Ayoung-Chee
After winning a coveted spot in New York Fashion Week, Ayoung-Chee has showed her Project Runway collection at Jamaica Fashion Weekend. Recently, the former Miss Trinidad and Tobago Universe accepted a yearlong position as travel ambassador for Trinidad and Tobago.
Dmitry Sholokhov
The ballroom dancer-turned-fashion designer was
crowned
the season 10 champion and has created a collection of eight cocktail and evening dresses exclusively for Lord & Taylor.

Michelle Lesniak Franklin
The Portland, Ore.-based designer survived the first-ever "teams" edition to become the 11th-season winner. In April, she
told
THR
that her immediate plans were "to get an accountant to figure out how to do my taxes with all that money [prizes included $100,000 in cash], and start hiring help and building a team. I'm a one-woman show right now, and I can't do it anymore. It's too tough. It's time for an expansion and to take over the world." She also was planning on taking part in a couple fashion shows this year, with a bigger launch in spring 2014.
Mondo Guerra
After coming in second to Gretchen Jones in season eight of the reality competition, Guerra was the winner of the first Project Runway: All-Stars in 2012. In commemoration of World AIDS Day, the openly gay Mexican-American designer -- who revealed his HIV-positive status on Project Runway -- created a limited edition of T-shirts. He also designed a limited edition "Movers & Shakers" T-shirt to benefit Dining Out for Life and introduced his "Haute Dog" spring line at Fashion Week El Paseo in March. His exclusive collection of eyewear with national optical boutique SEE hit stores this fall, and he partnered with Merck for "I Design," a national HIV/AIDS education campaign. Guerra also recaps Project Runway for THR.com.
Advertisement
Anthony Ryan Auld
As the winner of the second
All-Stars
season, Auld will create a custom-branded capsule collection for Nine West and was awarded a cash prize of $150,000, a sewing and embroidery studio provided by Brother Sewing and Embroidery, an all-expenses paid trip around the world to attend fashion weeks in cities such as Paris, London, Milan and Tokyo. In January, he
told
THR
he had plans to show at several fashion weeks throughout the year and planned to invest part of his $150,000 cash prizewith fellow
All Stars
competitor
Joshua McKinley.
"I really believe in what he does with tanks and how innovative he can be, and we'll be working together more," he said. "This seed money will help him push his business. I really believe in him and the passion behind everything he does."
Advertisement
Dom Streater
Dom Streater
went from working two jobs to support herself to winning season 12 of
Project
Runway
and a $500,000 prize package -- the biggest in series history. She has since been able to quit one of those jobs and work full-time as a designer. She's currently at work in her fall/winter 2014 collection with plans to show at Philadelphia Fashion Week in February. "I was very inspired by Russian ballet, and I'm excited about the softer side of design that I don't get to access,"
she told THR after her win.
http://www.hollywoodreporter.com/gallery/project-runway-winners-are-they-578674#14-dom-streater